Hey, This is Amelia Ava. I'm the Owner at natureleafkitchen.com. My Favorite things to do consist of hiking, and making Jerky.This blog is a place...
Hey, This is Amelia Ava. I'm the Owner at natureleafkitchen.com. My Favorite things to do consist of hiking, and making Jerky.This blog is a place...
As a meat connoisseur, I've owned a plethora of meat grinder models, and still have a few in my arsenal. 
And since I've heard so many good things about meat grinder attachments, this got me wondering how they stack up to my other grinders, so I don't have to pull out one of my big grinders just to grind meat. 
That said, here's my take on the capabilities of KitchenAid meat grinder attachments, and reviews on the 5 best models to ease your buying decision.
How good are KitchenAid meat grinder attachments for grinding meat compared to a meat grinder?
After checking out several options, I was intrigued to find that most of the best meat grinder attachments for KitchenAid cost as much as regular, standalone meat grinders. 
But the price was somewhat worth paying since you get the convenience of using a top-quality grinder head, without having to buy a new meat grinder. 
Another interesting aspect was that meat grinder attachments do come with a couple of food grinding plates to achieve the texture you desire.
Read This Article: The Definitive Guide To Choosing The Right Meat Grinder Plate Size
However, what's lacking between a regular meat grinder and a grinder attachment is the lack of power. 
The higher the power of a meat grinder, the quicker you'll be able to grind and enjoy more consistent results. 
But KitchenAid stand mixers offer between 250-watts to 300-watts power, making the grinder attachment suitable for grinding small or moderate amounts of meat, but not as fast as a regular meat grinder. 
Some of the best, yet budget-friendly standalone meat grinders feature copper motors and grind roughly three lbs of meat per minute. 
But in terms of usability, a meat grinder attachment is easy to attach to an existing unit that's already on your countertop for basic grinding.
Best Meat Grinder Attachment for KitchenAid Reviews
The KitchenAid grinder attachment is my first choice in this shortlist of best meat grinder attachments for several reasons, most notably because it is made by my mixer manufacturer, hence is designed, engineered, and tested by the company.
It also fits all household KitchenAid stand mixers, so it was easy for me to get the right one for my needs.
Further, it allows me to do much more than just grind meat, but also vegetables for homemade salsa. Plus, it comes with a sausage stuffer to make homemade sausages, something the kids just love at any time of day.
As a bonus for me, the KitchenAid 80127 stand mixer attachment also came with a rotor slicer/shredder, so I can slice cheese easily to make a variety of other items.
One thing I didn't like is that it's made from plastic, but on a brighter note is a solid plastic that's dishwasher safe.
The KitchenAid KSMMGA food grinder attachment is my favorite for two specific reasons. First, because it is made by KitchenAid, and second, it's crafted from high-quality metal.
It attaches easily to any KitchenAid stand mixer model, so you don't really have to break a sweat trying to get it on or off.
The KitchenAid KSMMGA Metal meat grinder attachment comes with a large food tray, so I can use it to grind small and large amounts of meat at one time.
It features a convenient front pocket and comes with its own storage case, making it easy for me to store all the parts, and access them from a single location.
It comes with everything I need to get grinding (except the mixer) including fine, medium, and coarse grinding plates, and two sausage stuffer tubes.
Even though it leaves next to no room for disappointment, it's a bit heavier than other attachment models, but again I don't have to hold it when grinding meat, so it's not really a dealbreaker for me.
GVODE Stainless Steel Grinder Attachment for KitchenAid Stand Mixers
Even though KitchenAid does not make the GVODE meat grinder attachment, it's definitely one solid piece of stainless steel machinery, so I knew from the get-go it would serve me well for many years to come. 
It's an ideal choice for grinding meats, fruits, and vegetables, and comes with two grinding blades, four grinding plates, and two sausage-making tubes, so you won't have to buy anything separately. 
Plus, I found that all the parts of the GVODE meat grinder attachment are a joy to clean in the dishwasher, but again I prefer to wash each part thoroughly under the sink. 
The only thing worth bickering about is the high price tag of the GVODE meat grinder attachment, but if you want a unit that is both durable, and delivers great performance, then it's truly hard to beat. 
One of the key reasons I selected the AMZCHEF meat grinder attachment is its 200+ raving customer reviews. Next, it comes with all-metal grinder attachments and can fit all KitchenAid mixers. 
Furthermore, it offers rich functionality, where it can be used to grate cheese, make bread crumbs, and grind meat. 
I was impressed with the texture of the meat resulting from this attachment and needless to say fast and cleaner grind. 
It comes with three sausage stuffing tubes, four sizes of grinding plates, and two grinder blades, and is made from food-grade die-cast aluminum. 
The parts however aren't dishwasher safe, but since I wash the parts under the sink manually, the AMZCHEF meat grinder attachment is a great fit. 
Slotting in at the #5 position on this KitchenAid meat grinder attachment review list is the Aintree meat grinder attachment, most notably for its universal design that fits any KitchenAid stand mixer. 
It's crafted from POM food-grade quality material and comes with coarse and fine grinding plates, two double-sided blades, two sausage filler tubes, and even a food pusher. 
And the icing on the cake is its lifetime after-sales service and a 12-month warranty. 
Pros And Cons of Meat Grinder Attachments
Pros of Meat Grinder Attachments:
Meat grinder attachments provide sheer convenience and a plug-and-play design. 
Grinding meat for a couple of burgers is much easier with a meat grinder attachment because the base unit is already laying on your countertop. 
Further, regardless of the meat grinder, you plan on buying, you will need to clean it each time after using it to prevent food contamination. 
And since a meat grinder attachment is fitted with everything including the grinding plate, all you have to do is remove it, and wash it under the sink rather than taking apart the entire meat grinder head from a standalone meat grinder.
Cons of Meat Grinder Attachments:
But on the downside, meat grinder attachments do not grind as quickly as full-size meat grinders, which can be a bad thing if the amount of meat you're grinding is large. 
If you're grinding meat to make just a couple of burgers, you'll need roughly about six ounces of ground chuck. 
And since most meat grinder attachments can easily grind approximately two and a half pounds of meat in under 10 minutes, you'd be able to grind meat for two burgers in two minutes or so. 
But if you're grinding meat to make several meals for a large party, then a meat grinder attachment is probably not your best option. 
And even though meat grinder attachments do come with several accessories such as grinding plates, the package does not include specialty attachments such as a rubber accessory. 
Most meat grinder attachments are also made from plastic, which is sturdy enough, but probably won't last a lifetime. 
However, KitchenAid has released a metal version of their meat grinder attachment, which boasts a solid build, so it can handle a fair bit of wear and tear.
What Makes a Meat Grinder Attachment for KitchenAid Good?
Plastic-made meat grinder attachments are in fact made from high-quality material, but metal is always a go-to choice. Meat grinder attachments should be made from food-friendly sturdy material to prevent food poisoning. 
Next, and since convenience is the main selling point of meat grinder attachments, you should check whether the meat grinder attachment is easy to install, without you having to put in any effort. 
Since meat grinder attachments are available across several models, you need to ensure you buy the right one for your KitchenAid mixer. 
Most manufacturers list the KitchenAid models their attachments are compatible with, so note down your mixer model number, and ensure you buy the right fit.
What to Look for When Buying a Meat Grinder Attachment for KitchenAid Stand Mixer?
Right Fit for your Mixer: 
The first, and most important thing I'd ensure when buying a meat grinder attachment is if it's indeed the right fit for my KitchenAid mixer model. 
If you buy the wrong one, you'll probably be able to return or exchange it if it is unused, but this again for me is a waste of precious time.
Build Quality & Accessories: 
Apart from looking at the build quality, I also considered the number of accessories that come in the box to avoid buying them separately. 
For example, some meat grinder attachments come with two to three grinding plates, but not with a rubber attachment to make encased spiced lamb in a wheat-based shell. 
Size of Feeding Tray/Hopper: 
Given that I use my meat grinder to grind meat for several different items, and oftentimes in fairly large quantities, I always check out the size of the feeding tray or hopper. 
A larger hopper means that you can grind more meat at one time, and don't have to load up the tray often, so you grind more in less time.
Also Read This Article: Best Meat Grinder For Home Use?
Can the KitchenAid Meat Grinder Attachment Grind Bones?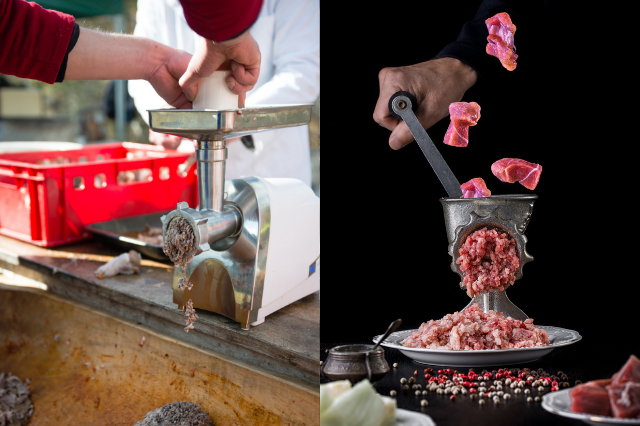 This depends on the type of meat grinder attachment you buy, but most meat grinder attachments aren't powerful enough to grind bones. 
KitchenAid mixers are fairly low-wattage units, so grinding bones will probably cause damage both to the attachment and the motor. 
However, grinding really soft chicken bones should not cause damage to the attachment, but this again could risk damage to the grinder head. 
To avoid putting stress on the grinder head, you can chop the bones up into smaller or better yet fine pieces before putting them through the meat grinder head.
Read This Article: Can Meat Grinders Grind Bone?
Are Meat Grinder Attachments Safe for Dishwashers?
Most of the meat grinder parts of the attachment such as the grinder plates are dishwasher safe, and even though this is an easy way to clean them, it's a good practice to wash them by hand, and here's why. 
Most meat you grind is very fatty and does not rinse thoroughly in the dishwasher. Therefore, you should use hot water and good ol' Dawn liquid detergent to ensure each part is squeaky clean. 
Another good reason you want to wash the parts by hand is that some of them are delicate, and may crack if washed in the dishwasher. 
Read This Article: How to clean KitchenAid meat grinder?
Conclusion
When considering the products mentioned on this list, I took into account performance, features and durability. 
While all five products are great, the KitchenAid KSM MGA meat grinder attachment is perhaps my top choice as it boasts an all-metal design, and fits any KitchenAid stand mixer. 
The KitchenAid 80127 also offers the same performance and durability as the KSMMGA meat grinder attachment, but it's made of premium quality plastic. 
If you have the money to splurge, the GLOBE meat grinder attachment is an ideal choice, as it comes with a polished mirror surface that's easy to clean, and a whole bunch of accessories. 
For a metal meat grinder attachment, the AMZ CHEF attachment is worth a second look, given it fits all KitchenAid stand mixers and offers great speed and a cleaner grind. 
And if you don't want to break the bank, but still would like good, consistent grinds, the Entree meat grinder attachment will not let you down, thanks to its ease of use, and its ability to grind up to five lbs of meat in just five minutes.
Hey, This is Amelia Ava. I'm the Owner at natureleafkitchen.com. My Favorite things to do consist of hiking, and making Jerky.This blog is a place where my team and I share information related kitchen appliances.